Delamode provides support to Festival Reboot Project
01. 03. 2017
Our UK and Romania offices recently teamed up to support the Small Steps charity with its Glastonbury festival reboot project. An astonishing 3 tonnes of discarded wellington boots were left behind by festival dwellers – which would normally end up in a landfill and take many years to decompose.
To combat this the Small Steps project has set up an initiative that sees volunteers collect and upcycle the wellies so that they can be redistributed to Romania and handed out to families living on landfill sites to help protect their feet.  
The festival reboot team cleaned and paired all the wellies, with Delamode responsible for the redistribution of the boots from Glastonbury to Bucharest, Romania. 
The project created great interest from BBC News, who filmed a short video documentary of the upcycling process and redistribution of wellies in Romania – Watch the video below: 
BBC NEWS VIDEO: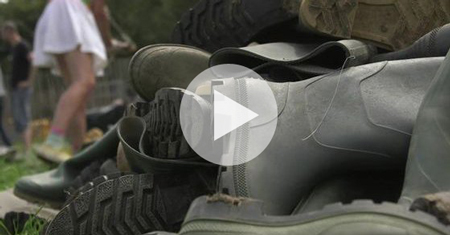 CLEANING AND PAIRING OF THE BOOTS: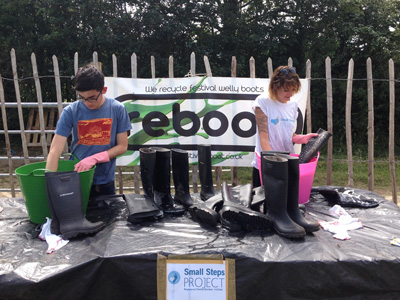 DELAMODE TRAILER USED TO REDISTRIBUTE WELLIES TO ROMANIA
HANDING OUT OF WELLIES TO FAMILIES AT A DUMP SITE IN ROMANIA
About – Small Steps Project
Small Steps Project is a humanitarian organisation and UK registered charity supporting children and their families on rubbish dumps.
The charity is dedicated to supporting children around the world who live on rubbish dumps and survive from scavenging. Its aim is to raise awareness, through film, of the unacceptable hardships that they face.
Projects includes delivering shoes, hygiene kits and emergency aid to protect children in the dump environment, followed by sustainable solutions to enable children to take small steps off rubbish dumps and into education.